South Texas Quail Hunts in Hill Country
The grand experience of quail hunting behind dogs is truly magical. Whether you have seen a pointing dog lock tight on the scent of a quail one time, or a thousand times, the scene always puts a large smile on the face of a wing shooter. Our kennels house 40-50 pointers and cockers at any given time, and we utilize them all. The training of all our dogs is done on site. We will not go as far to say ours are the best dogs you will every hunt behind, but we promise you will not hunt over better.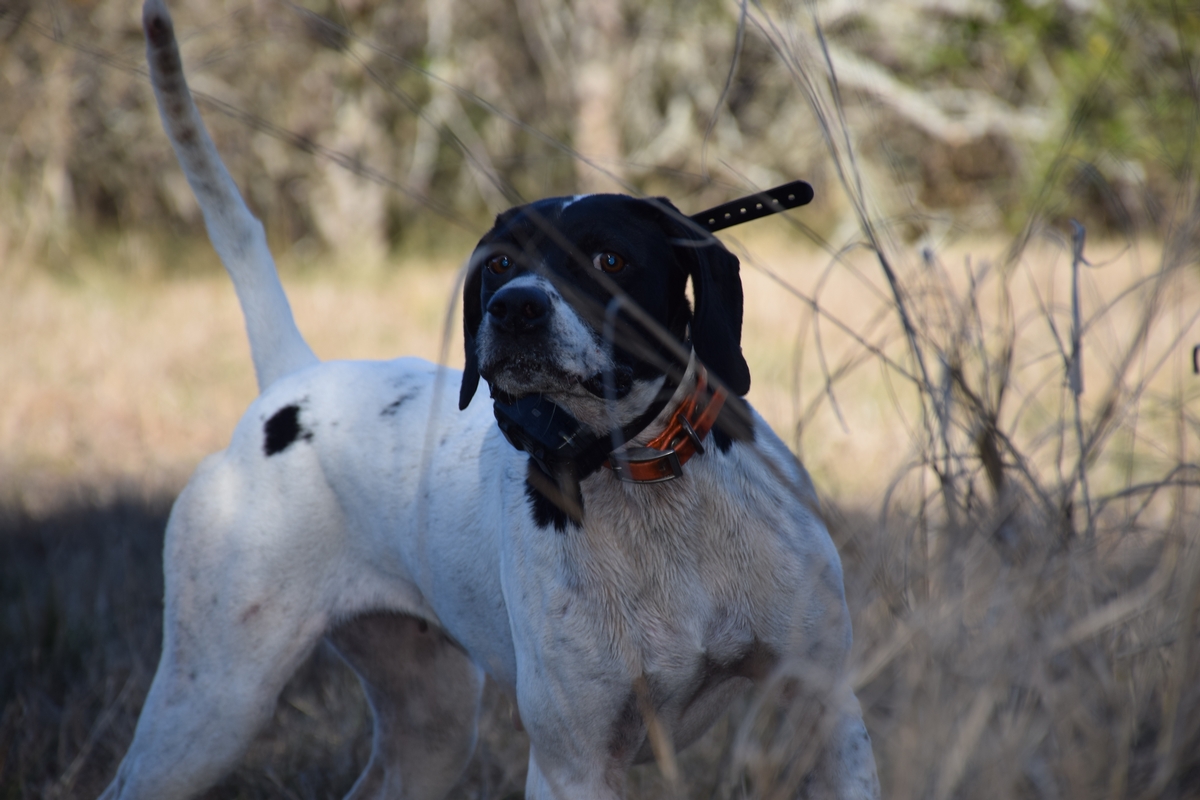 Quail Hunt Dogs Texas
Experienced Quail Guides
The dog handlers/guides are Scotty Porter and Deryl McKinnerney. Both Scotty and Deryl are accomplished dog handlers, as well as professional guides. Between the two of them, they have been guiding professionally for over 30 years. Their experience in the field, with focus on safety, is unmatched. Their motto is to "work as hard as their dogs, from the first flush to the last". In doing so, one cannot help but be impressed by the skills and knowledge they impart on the hunt.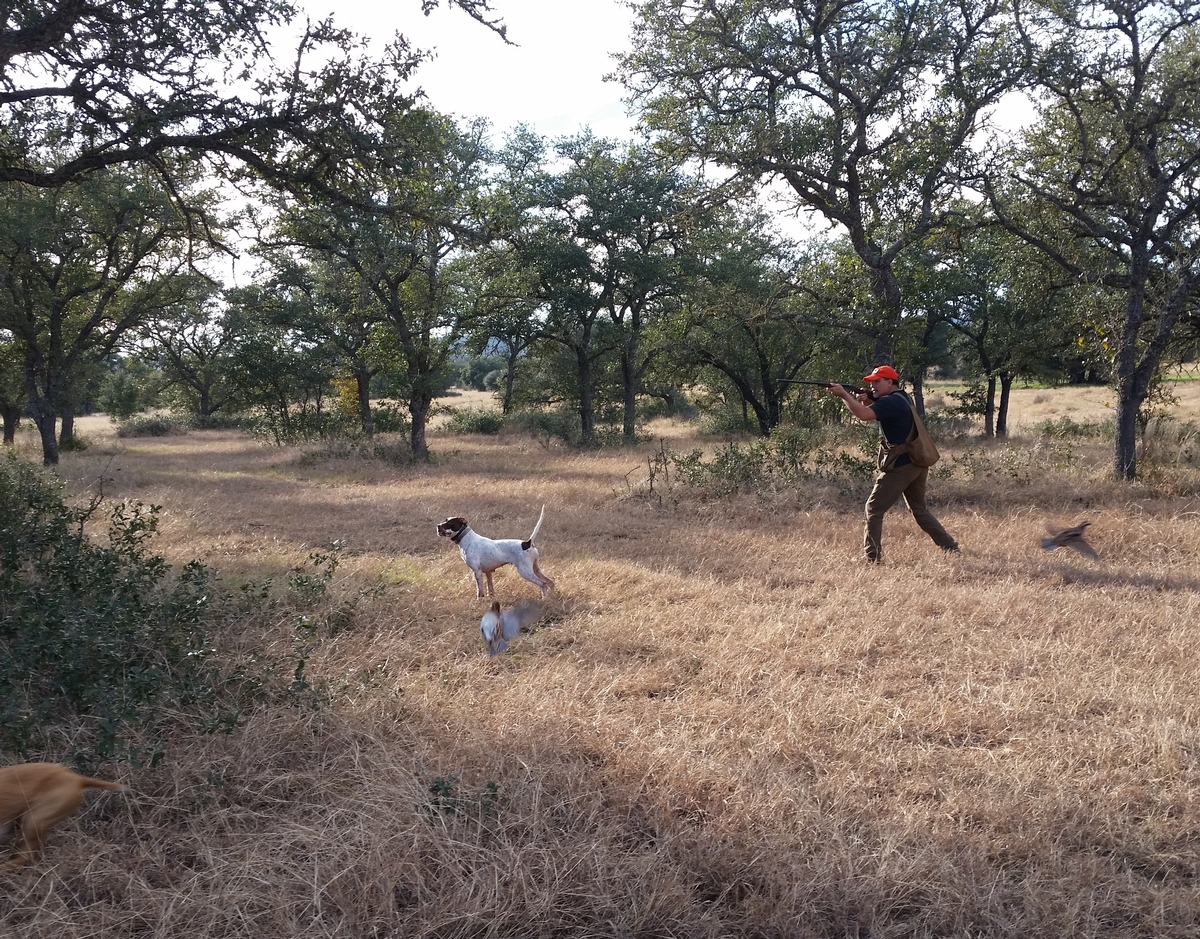 The Hunting Guides Texas
Quail Hunts For Every Level
Each of our hunting courses offers unique settings for any skill level of wing shooter. The Home Course encompasses roughly 150 acres of pristine Texas Hill Country bottomland. The terrain is mostly flat, and dotted with large oaks and scrub oak motts. The Home Course offers the easiest walking and shooting.
The Middle Course has challenges for the most seasoned quail hunter, and is loads of fun. This course is also roughly 150 acres and is more congested with large stands of oaks, elms and scrub oak motts. There is a mix of rolling flats, long draws and dry creek bottoms on this course, all of which are lined with trees. When you step into the dry creek for the first time, you will have to remind yourself that trees are 90% air and to shoot where you think the bird will be. Once you have experienced this first hand you will understand.
Fun, challenging, humbling & hilly is the best description for the Back Course. This is a true Texas hill country quail hunt. There are 3 dry creek bottoms that dissect this course, all of which are lined with trees of varying height. The topography variances, tight shooting allies, and the unpredictability of the birds make this experience unique unto itself.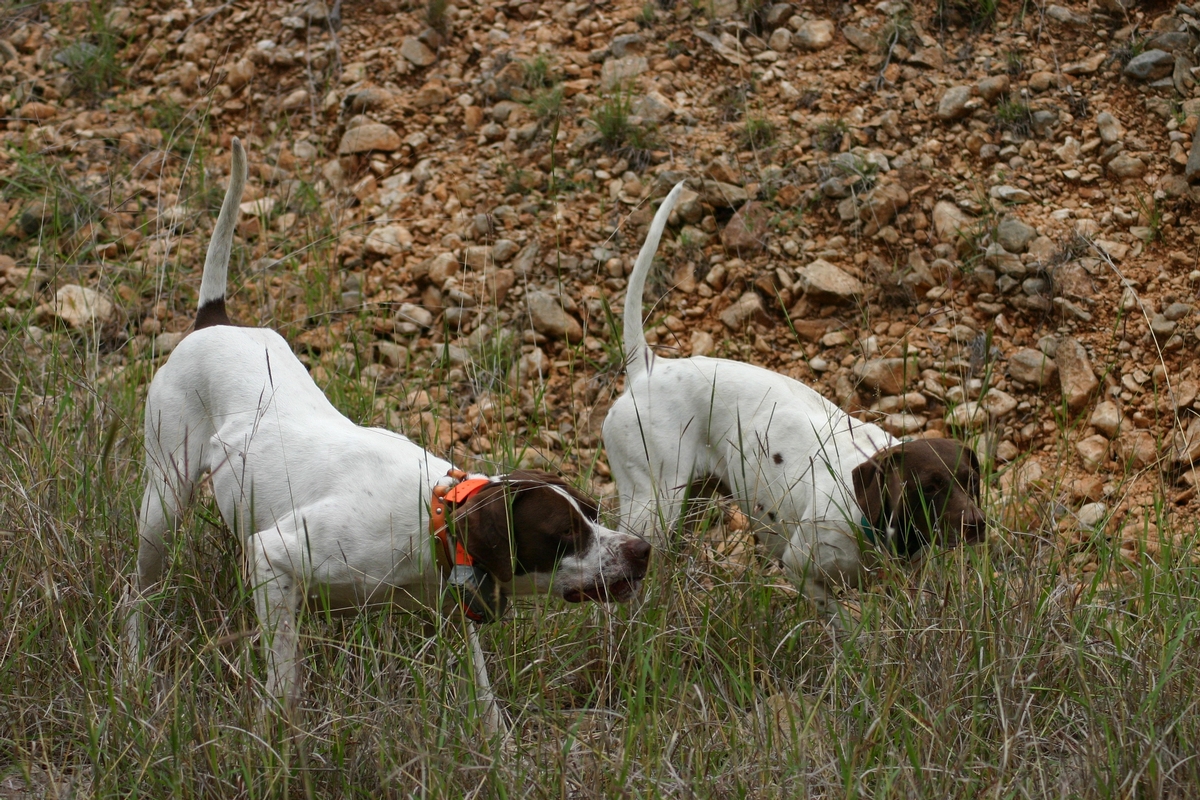 quail hunting dogs
Best Shotgun for Quail Hunting
Our preferred shotgun is an over and under, or side by side. However, hunters are welcome to shoot automatics, as long as hulls are picked up. We have shotguns to rent @ $25 per day. The preferred shot size is #8 shot. We will allow #7 ½ shot, but nothing larger. The preference of smaller shot is solely for the protection of the dogs. We have Rio shotgun shells for sale @ $8.50 per box.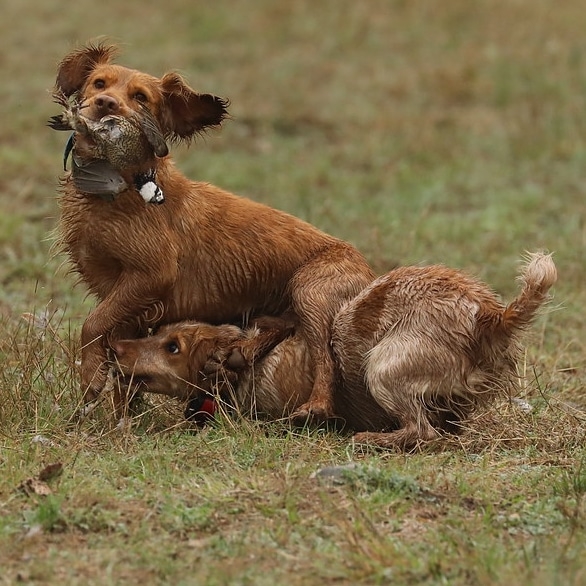 Quail Hunting Texas
Quail Hunting in Hill Country, What To Expect
You can expect to walk 3-4 miles per hunt, so comfortable footwear is a must. We have done our best to remove any plants that has stickers or thorns, so chaps are optional. The question is always asked at some point, do you have snakes? We are fortunate to be in a part of the Hill Country with very few rattlesnakes. In 15 years, we have killed one rattler while hunting. However, if wearing snake boots makes you feel safer, by all means wear them. Safety glasses and hearing protection are recommended. Blaze orange attire, of any sort, is mandatory.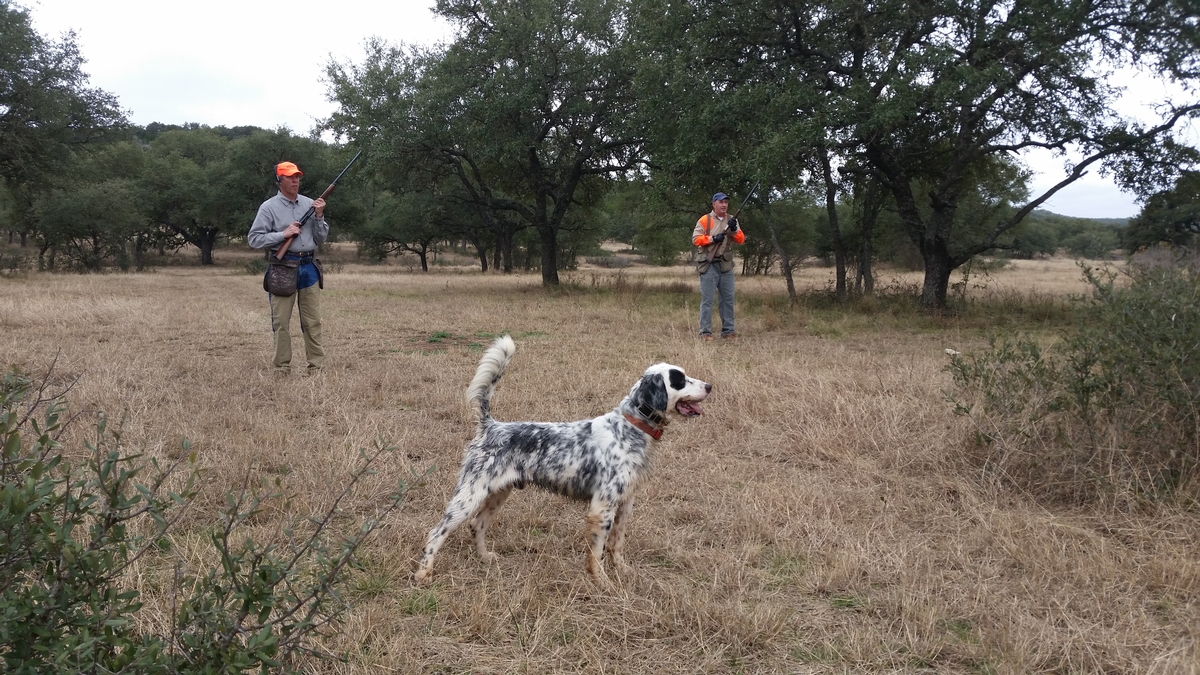 Guided Quail Hunt Texas
Included in the Hunt
All quail hunts include 25 liberated birds per hunter, a professional guide, great dogs, cleaning and packaging of birds. All of our guests are asked to check in at Camp Mary Louise prior to your hunt. Our morning hunt begins at 8:30am and our afternoon hunt at 2:30pm. You should plan on being at Camp Mary Louise 30 minutes prior to your hunt.
Texas Quail Hunting Rates & Dates for 2020-2021 Season
THE HALF-DAY PACKAGE
$425.00 per hunter.
Minimum 2 hunters.
25 liberated quail per hunter
THE FULL-DAY PACKAGE
$850.00 per hunter.
Minimum 2 hunters.
This half-day hunt includes 25 liberated birds per hunter for each hunt.
*A great "Southern Style Lunch" is provided with all Full-Day Packages.
THE 4R SPLIT HUNT
$1015 per hunter.
Minimum 2 hunters.
25 liberated birds per hunter for each hunt
This 4R Split Hunt has become the most popular hunt we offer. The itinerary is as follows:
Day 1: Arrive at Camp Mary Louise by 2:00pm. Hunt that afternoon, enjoy a hand cut rib-eye steak for dinner, and libations by the fire afterwards.
Day 2: Breakfast, morning hunt, and depart mid-day.
THE 4R GAME BIRD HUNT
$1625.00 per hunter.
Minimum of 2 hunters.
This packages includes 2 nights lodging, 3 game bird hunts and all meals.
25 liberated birds per hunter per hunt
The itinerary is as follows:
Day 1: Arrive in the evening and enjoy dinner.
Day 2: Breakfast, Morning Hunt, Lunch, Rest Time, Afternoon Hunt and Dinner.
Day 3: Breakfast, Morning Hunt and Depart.
SELF GUIDED HUNTS
On Sundays mornings and afternoons we offer the bird dog owner the opportunity to utilize the 4R to hunt over their own dogs. This package includes 25 birds, pre-released, or you can release the birds yourself.