4R Ranch - Testimonials
Here's what a few of our customers have had to say about us.
Have a testimonial of your own to share?
Send a Testimonial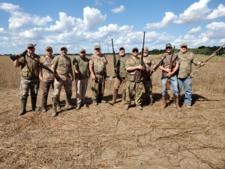 Ron Michalec
October 2019 - Hondo, Texas
In all my years of Dove hunting, this was by far the best experience. There were 10 in our party on the 1st weekend of October, the accommodations were exceptional, the meals were phenomenal and our hosts, Darrel and Jill, the most down to earth folks you'll ever meet. Out in the field on the hunt, Scott put us on the birds, he did everything from helping us set up, calling out the birds, help finding the birds, picking hulls to fetching water. The man was tireless. Thank you for a memorable experience! See you next October.
Leonard Wilson
Spring 2017 - Houston
An overall excellent hunting experience, missed last year due to rains but looking forward to hunts this upcoming season. Would hunt with them more if they had the availability.
Reagan Rentz
Fall 2018 - San Antonio Texas
Couldn't have asked for a better trip. Beautiful property, great accommodations & tons of birds.
Send us a Testimonial
To our past clients: We appreciate your comments and if you would, fill out the form with comments and a photo about your experience at 4R Ranch. Fields marked with * are required. Please enter the Name field how you want your name to read on our website (Examples: John Doe, J. Doe, John D., John Doe Corporation).