4R Ranch - Testimonials
Here's what a few of our customers have had to say about us.
Have a testimonial of your own to share?
Send a Testimonial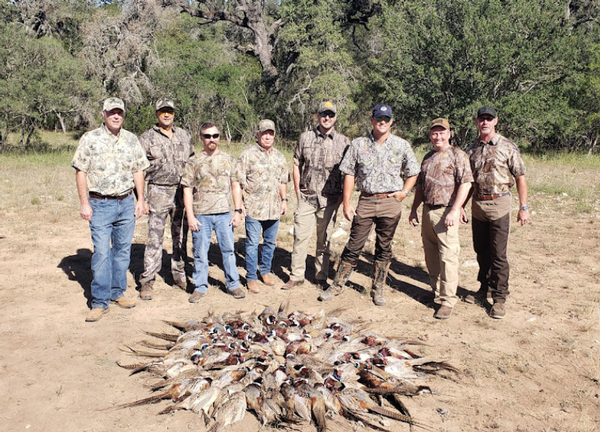 Doug Thurmon
Went on the Pheasant hunt and it was a great time. Fun hunt, great people and amazing food. First class and I highly recommend booking a hunt with these guys.
Gary Johnson
We hunted at the 4R Ranch for the first time recently, and we were treated like royalty from the time we arrived until we left. Deryl and Jill are wonderful hosts. Scotty, one of the long time guides, had located White Wing Dove in the Dilly area so we hunted there the first afternoon. It was a great hunt with many groups of 20-50 birds flying into the field. The next morning we did a Continental Pheasant shoot which was more hunting fun than any of us had ever had. If you get the chance take it. You will have a shoot like no other. We cannot wait to do it again. I definitely recommend the 4R Ranch.
Harald Watkins
Deryl and Jill,
This was our first time to hunt at 4R Ranch. I want to thank you again for the great time we had at your ranch. You made all of us feel at right at home, the house was way more than we expected, rooms were fantastic and the back porch area was perfect for winding down after a good hunt. The home cooked meals by Jill were excellent, couldn't have asked more if my mother was cooking.
Every step of the way was professional and safety of the hunters was top priority. WE WILL BE COMING BACK NEXT YEAR!!!!!!!
To anyone interested in hunting at 4R Ranch I promise you will not be disappointed.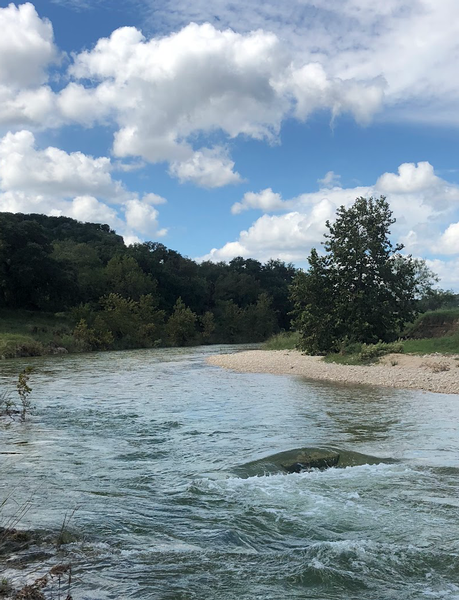 Blake Egan
This place is amazing. My friends and I went on our annual dove hunt here for the first time this year and wow were we amazed. This is a family run outfit and it is first class. They treat you like royalty and their lodge is amazing.
Great people, great lodge, great food great dogs and more birds than I've ever seen on a dove hunt. We will be going back every year no questions asked. We may even try one of their quail hunts. Spend the extra money and treat yourself to a hunt here, you won't regret it.
Robert Trautmann
Great experience. Been going there since they opened- several times year in groups of six. Fantastic people- guides included. Dogs are as good as you can get. Owners are hands on and are there to make it a great hunting experience. Always look forward to going back.
Richard Kattmann
I've been hunting with Deryl and Scottie for the last 10+ years. The experience they provide is first class; the birds fly great and the dogs work like well-oiled machines. I would recommend the 4R ranch to anyone looking for a truly one-of-a-kind wing-shooting experience. AND...I can't end my review without mentioning Jill's efforts back at the lodge. She is a wonderful chef!!!
Matt Vaughn
The 4R Ranch is more than just a place to quail hunt, it is a rich experience of hospitality and unmatched service.
The elite bird dogs, the lodging facilities and dining are all top notch . However; Deryl and Jill and all of the 4R team are what makes this a very special place.
There are many places one can go quail hunting, but if you are in search of an unforgettable experience......look no further.
Mike Fry
The 4R Ranch is a great place to entertain your most valued customers or spend time with family. The guides are extremely professional, helpful, and are most concerned with safety and an enjoyable experience for all guests. The accommodations, landscape, and Food above par. We continue to book yearly and look forward to each Visit.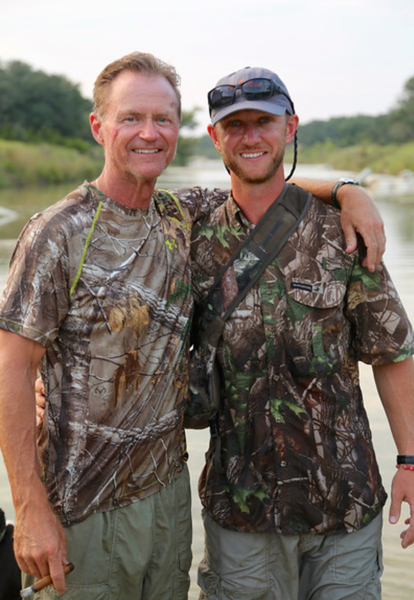 Brad Larson
I found the 4R by web search years ago. We had a yearly dove hunt and our old regular place had gotten expensive and rather populated with the oil boom. It was time to make a change.
I didn't know what to expect of the 4R, but I can tell you what we hoped to find. We hoped to find secluded natural beauty, clean facilities, and a friendly guide. Our group is full of experienced wing shooters, but the camaraderie and scenery are our priorities.
Now let me tell you what we found at the 4R.
Honestly, we found a little slice of heaven. Let me break it down in several categories:
The Ranch. The ranch contains rolling hills and small mountains. Every fence is straight and maintained and every building is clean and beautiful. There is a mountain called Hat Mountain on the property which allows you to see the Hill Country for miles in several directions (also be sure to ask about its history). There is a swimming hole behind the lodge and a great big porch and fire pit off the back of the lodge. It is so quiet and beautiful it would not be a stretch to call it reverent.
The Hosts. I didn't know Deryl and Jill McKinnerney (the owners) from Adam and Eve when we met, but I can tell you they're among our dearest friends now. They ensure each trip is special, safe, and comfortable. Scottie, the other main guide, is about as rock solid of a man as you'll ever meet. And let me tell you something - these guys know how to handle a dog. Speaking of which...
The Dogs. The 4R dogs alone are worth a trip. From cockers to pointers to specialty tracking dogs, you will not hunt over more professional dogs anywhere, but even better than that, the dogs are treated with the respect they deserve. (If you've hunted much, you've seen people who treat their dogs like slaves and that doesn't sit well with me.)
The Birds. Whether it's a quail hunt over a team of rockstar pointers and cockers or a dove hunt amongst a group of friends and family, the birds are a plenty. The 4R staff makes sure hunts are safe and uncrowded (read: your dove hunt will not feel like landing on Normandy). Outfitting bird hunters is an art, and the 4R team are artists at creating great hunts.
Ever since our first visit, we haven't looked back. We mark our calendars by our trips to the 4R. I cannot more highly recommend the 4R for any hunt or getaway.
Tom Whitney
Quail 2023 - San Antonio
A tremendous experience as always. Have been several times now thanks to TG, and the hunt is always amazing. A first class couple more ways than one. Can't wait until next year!
Mike Middleton
Winter 2019 - College Station
In addition to our families, my three adult sons & I enjoy a couple of things: an opportunity be together and hunting whitetail. In December 2019 we had the opportunity to hunt at 4R. What a great experience we had with Deryl, Jill and their expert crew. The guides all worked their tail-ends off putting us on deer and Jill was always ready to see to it that we were fed to the point of hurting ourselves. Our experience was top shelf and look forward to hunt at 4R again in 2020.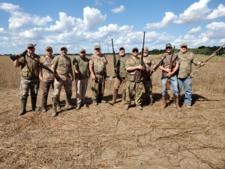 Ron Michalec
October 2019 - Hondo, Texas
In all my years of Dove hunting, this was by far the best experience. There were 10 in our party on the 1st weekend of October, the accommodations were exceptional, the meals were phenomenal and our hosts, Darrel and Jill, the most down to earth folks you'll ever meet. Out in the field on the hunt, Scott put us on the birds, he did everything from helping us set up, calling out the birds, help finding the birds, picking hulls to fetching water. The man was tireless. Thank you for a memorable experience! See you next October.
Leonard Wilson
Spring 2017 - Houston
An overall excellent hunting experience, missed last year due to rains but looking forward to hunts this upcoming season. Would hunt with them more if they had the availability.
Reagan Rentz
Fall 2018 - San Antonio Texas
Couldn't have asked for a better trip. Beautiful property, great accommodations & tons of birds.
Send us a Testimonial
To our past clients: We appreciate your comments and if you would, fill out the form with comments and a photo about your experience at 4R Ranch. Fields marked with * are required. Please enter the Name field how you want your name to read on our website (Examples: John Doe, J. Doe, John D., John Doe Corporation).